Wingpact Petit Verdot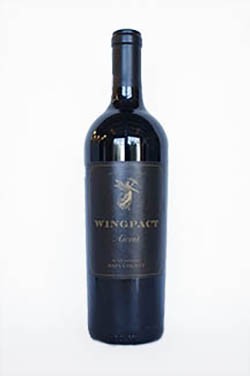 To quote a song by one of favorite artists, Martin Sexton, "Women and wine never went too well, make me say things I don't want to tell..." We love you, Martin, but according to statistics in the wine industry, women and wine are a superior pairing.
In fact, wines made by women who serve as lead winemakers are more likely to receive prominent awards and accolades, and were more likely to be featured in the acclaimed 2010 book "Opus Vino," which highlights 4,000 reputable wineries from around the world (WinesandVines.com).
However, women in the wine industry still have a long way to go to be fully untangled from the long-standing masculine roots of our beloved vineyards. Winemaking has traditionally - and still is - an industry dominated by men. Strides are being made, however, as 50% of recent graduates from California's top enology programs have been women (Makers.com). However, women are still not managing to crack the seemingly un-shatterable wine glass ceiling. According to winemaker Katie Wetzel Murphy, "the barrier that still hasn't been broken is the one around the higher positions [within wineries], such as president or chairman or CEO." And while the U.S. is the largest wine market in the world, with 90% of the U.S. market being produced in California, only 10% of California wine makers are women.
Why such a gender imbalance? One explanation is that throughout history, women have been excluded from the culture around wine. For example, in ancient Egypt, only men were entombed with wine because it was believed that women "would get drunk and become deviants in the afterlife," states Ann B. Matasar in her oenophiles-must-read book Women of Wine. If you think that's a bit acidic, there's more: In Europe in the 17th and 18th centuries, the only women allowed into taverns and cabarets were prostitutes. Fermented thinking to say the least. And still more: the Jurade de Saint-Emilion, France's 800-year-old wine "brotherhood," only began permitting women --hold on to your decanters -- in the year 2000.
Craving a glass with stronger notes of equality? We can change this gender imbalance by purchasing wine from women-founded wineries and/or women winemakers!
Sharon Harris's Rarecat Wines in Rutherford, California, has joined forces with Wingpact to support women-initiated ventures. Click here to purchase a bottle or two, and know that your money is supporting women in a multitude of varietals -- from the winery owner to the label designer to our female-feuled company with a mission, Wingpact.
Give a gift with a fruit-forward message today.