RARECAT
Using a Social Elixir to Promote Change: Sharon Kazan Harris, RARECAT Wines
Aug 31, 2018
by Cindy Rynning
For two hours, Sharon Kazan Harris and I laughed and chatted as if we had known each other for years. In reality, this conversation was our first. Sharon is the sole Owner and Director of Winemaking at RARECAT Wines, a company that produces single vineyard, small production wines using Old World vinification techniques, based in St. Helena, California. Sharon, who oversees all facets of wine production in Napa, Bordeaux, and Champagne, is the only American vintner producing estate wines in Bordeaux and Champagne. Her story is empowering and accomplishments many. Sharon admitted that her biggest challenge was graduating with honors from the Université de Bordeaux's famed D.U.A.D. program, a technical oenology diploma taught in French.

Harris shows how wine can connect women and help them advance their careers.
Before Sharon Harris launched Rarecat in 2009, she went through a process of examining what wine really meant to her. She'd fallen in love with wine as a college student when she'd spent her junior year abroad in France. But since then she'd worked in publishing, advertising, and technology, and before she made wine her next career, she thought it important that she understand the source of her passion. "It was always that wine connected people," she says. "Conversations happen with greater ease when there's wine at the table."
For Harris, one particular group needed connecting: women, particularly women at work. So Rarecat—the name, Harris says, is meant to suggest a woman of distinctive beauty—would be not just a business for Harris, but a means of advancing social change. "Helping women use wine as a tool meant that they could engage in conversation very often with people who run corporations, control budgets, hire individuals—in some ways, very similar to golf."
She created a seminar called "Don't Give Up the Wine List," a reference to the idea that women at a business dinner often abdicated the wine choice to men, a symbolic transference of power. "What happens to subconscious biases when you give the wine list to someone else?" Harris asks. "That person subconsciously has the authority to control the conversation. They're usually paying the bill. So taking control of that wine list was correlated to taking control of the authority at that table."
Don't Give Up The Wine List began as a seminar that laid the groundwork for women to think of wine "as a tool rather than a beverage to drink," Harris says. Harris would help women who didn't know a lot about wine develop confidence around ordering it. She encouraged women to learn the basics about what she calls "world-class regions"—as she says, "there's no bad champagne, there's no bad Napa cab"—while paying attention to whatever region a wine menu emphasized and engaging with "the most powerful person on the planet when you're ordering wine"—the sommelier.
Harris has gone on to develop other programs customized for clients that focus on tasting, regional differences, and even the color of the wine. "My business today is not only focused on empowering women and diversity," she says, "it's about helping corporations leverage and connect to their clients and their teams with a specific purpose of driving sales and business development."
None of this would work, Harris emphasizes, if Rarecat made lousy wine "If the product is crap, it doesn't matter," she says. "The wine had to be extraordinary or the message wouldn't have merit."
Rarecat, which only makes about 3,000 cases of wine a year, makes a flagship cabernet, along with excellent rosés, pinot noirs, and sauvignon blancs. Harris, who returned to France to study winemaking at the University of Bordeaux, even offers a champagne and a sparkling wine from Bordeaux. "When people taste the wine, they're blown away by how beautiful they are," Harris says. "It increases my credibility."
For more information, visit Rarecat Wines.
Rarecat's Sharon Kazan Harris Is Connecting Women Winemakers in Napa and Bordeaux
WORDS: KATIE BROWN
For many wine lovers, bigger is truly better. Rolling vineyards, bold flavor profiles, and magnum-sized bottles are often celebrated in the industry and among wine drinkers. But then, some oenophiles see the beauty in the small things. Sharon Kazan Harris, owner and director of winemaking at Rarecat Wines in Rutherford, Calif., is one such wine lover and producer. With an emphasis on artisanal winemaking and one-on-one interactions with consumers, Rarecat embraces old- school techniques with a modern twist.
Sharon Harris voted 29 Most Ground Breaking Women Changing the World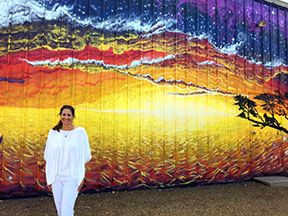 RARECAT Champagne, France ($79)
Mar 27, 2017 Updated Mar 29, 2017
There are many vivacious personalities in the Napa Valley — people who are as unforgettable as their wines -- but one of the most dazzling is Sharon Kazan Harris, owner of RARECAT wines here in St. Helena. Sharon's stories, such as taking a bus, nonplussed, after receiving a special invitation to Chateau Pavie when she was just 18 or 19, are rapid-fire and intermingled with tips and tricks to living an adventurous and meaningful life. When all this comes with one exquisite wine after another, you almost can't believe your luck at having found her and RARECAT.
In addition to making a Napa Valley cabernet sauvignon with iconic winemaker Joel Aiken, Sharon makes rosé, a St. Emilion wine, and a Crémant de Bordeaux, in addition to a Champagne. This richly textured and complexly divine Champagne is made in conjunction with Gonet, a highly respected Champagne house founded in 1830. Take a sip, and you will know what it is like to have a life well-lived.
Catherine Bugue is the Star's tasting panel writer. Her weekly pursuit of a good glass of wine provides a nice supply of choices for the Wine of the Week column. If you'd like to submit a Napa Valley wine for this column, please send it to the Napa Valley Wine Academy, 2501 Oak St., Napa, CA 94559.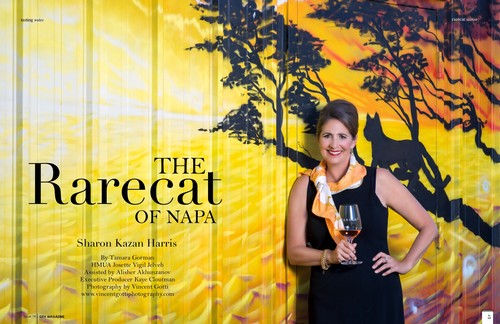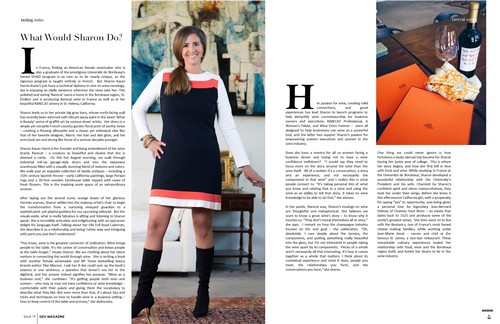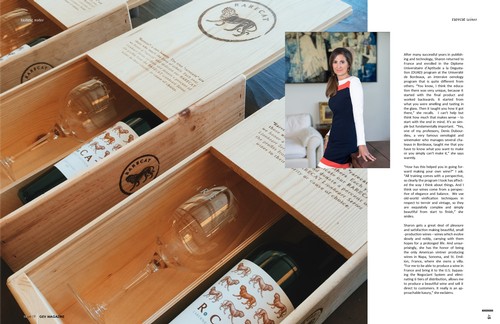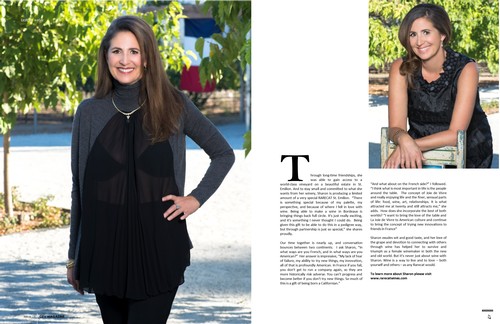 RARECAT In the NEWS
2010 Rarecat Wines Cabernet Sauvignon
A sexy, open-knit, round, generous red wine from the Old Toll hillside vineyard in Calistoga, the 2010 Cabernet Sauvignon offers lots of black currant and black cherry fruit intermixed with a notion of new saddle leather. This rich, full throttle Cabernet possesses some dusty tannins, but they are more than adequately compensated for by the wine's extravagant fruit. This 2010 should drink well for 10-15 years.
Wine Advocate #209 Reviewer: Robert Parker Rating: 92
Santa Clara Weekly
The event also included a reception, with wine tasting, hors d'oeuvres, ... Martinelli Winery, Mira Winery, Rarecat Winery, Sbragia Family Vineyards, ...
Napa Valley Register
Owner Sharon Kazan Harris cares deeply about balance and that shows in this beautifully balanced cabernet sauvignon (with 4 percent petite verdot).
Jolene
First, Heather Patz, co-founder of Patz & Hall Winery welcomed AWP's Boot ... Next it was off to local hot spot for sparkling and still wines, Iron Horse ... and A Woman's Palate co-owners Susan Citron and Sharon Harris greeted ...
Sandra Fischione Donovan
... Chappellet Winery, Rarecat Wines, Inman Family Wine and Failla Wines. Anne-Marie Failla, co-founder of Failla Wines, is originally from the ...
joanne wilson
Sharon owns 3 vineyards including Rare Cat, Common Dog and Amici. ... I loved speaking with Sharon because her passion for food and wine is ...
Rarecat – Sharon and John Harris purchased 80 acres in the hills above Calistoga – across from the base of the beautiful palisades (series of prominent vertical rock formations that are situated in this part of the Vaca mountains)
Red Slice
The panel's moderator, Sharon Harris, is owner and winemaker for Rarecat Wines but also founder of A Woman's Palate, a place for women who want ...
Robina Lewis
Don't miss vintner and AWP co-founder Sharon Harris as she talks to Laura Lawson, host of The Wine Crush. Sharon talks about women in wine, ...
Bacchus & Beery Wine Blog
Bacchus and Beery Wine Blog diary as they visit with Sean Sullivan of Sullivan Vineyards and Sharon Harris ofRarecat and Common Dog Wines.
Robina Lewis
Friday, September 20th, 5-7 pm. Vintners: Sharon Harris, Rarecat Wines Michaela Rodeno, Villa Ragazzi Wine. Saturday, September 21st, 12-4 pm
This was our second interview with Sharon, which took place at her home in St. Helena in February of 2011. This time she talks about her own projects featuring RareCat, CommonDog and Amici wines. You can check out Sharon's first interview all about Wine Entre Femme in our May podcast.
rayfister
John also has an amazing collection of vintage wine labels including .... Harris of Wine Entre Femme (and also ofRareCat and Common Dog wines).
Sharon Harris is the founder of Wine Entre Femmes and owner of RareCat & CommonDog wine. In this interview Sharon talks about women in the wine industry around the world. We interviewed Sharon at her home in St. Helena in February of 2011.
Smart Companies Radio interviews Sharon Harris, the owner of Napa Valley's Rarecat Wines. Sharon turned her life's passion into a thriving business, and she's committed to helping other women entrepreneurs be successful. She formed a group called Wine Entre Femmes comprised of some of the most remarkable women in wine.
ToutSuite Social Club
RARECAT = a woman of magnificent beauty. She is a bi-continental, French speakin', food lovin', wine makin', and hard pressin' Bon Vivant. Living in ...
Justine
The guests then got some time to mingle and network and sip a delicious white wine provided by Rarecat. The main event started as the guests sat ...
The Food Patrol
The evening begins at 5 p.m. with an hors d'oeuvre and wine reception, ... Company and Rarecat Wines– will provide wine pairings during the meal.
14 Feb 2009
Alliance Française
This is a longer version of an article also published in the Financial Times.