March 28, 2018 | Sharon Kazan Harris
Time to hit the road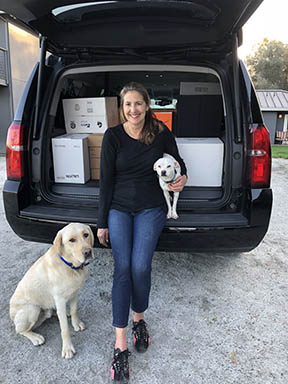 Packing for a 2 1/2 Month RARECAT Road Tour
I have traveled extensively around the world since I was 20 years old. It was on my first trip to France that I fell in love with wine at 20 years old. I love to travel and I like traveling light. However, packing for a 2 1/2 month, 23 city RARECAT Road Tour with 45+ events, was a whole new level of coordination.
I find it easy to speak in front of 100 people - sharing stores and information about wine. I am confident in the cellar and kitchen, and I can hit a tennis ball with top spin but small details and being organized does not come naturally. Panic is a great teacher. I had lists within lists, many added to during numerous sleepless nights, and started ordering supplies weeks ago (Yes, I had Tide Spot sticks in case I spill wine on someone).
So.... here is my list. If you are planning a cross country trip as a vintner doing 45+ events... here is what you need to take.
2018 RARECAT Tour Packing List
Coravin and capsules
pourers
wine keys
decanter
Champagne stoppers
pens
order forms
RARECAT wooden box
RARECAT magazines
RARECAT t-shirts
stickers
plastic bags
hanging tags
gift bags
mailing list sign up form
tour statistics with clip board
emergency medical kit
flash light
pepper spray
phone holder
blanket to cover contents
car organizer
thermos for coffee from REI
cooler larger enough to hold wine bottles
ziplock bags (protect wine labels)
garbage bags and hand wipes
bathing suit
Susan Bell moisturizer and sunscreen
personal and business check books with enevelops
business cards
travel hair blower
RARECAT wine glasses and dump bucket
clothes & shoes
Comments
Commenting has been turned off.