RARECAT Cabernet Sauvignon
Vintage: 2014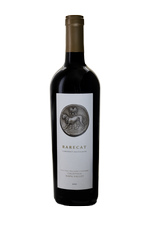 OUR GOAL
We love elegant Cabernets that are regal in balance, marked by complex aromas that make you dream. The goal of our Old Toll Cabernet Sauvignons are a wine rich in elegance, deep in flavor, with tannins hidden in the background that will support these flavors for many years to come. We have three Old Toll Hillside vineyards in Napa Valley: Calistoga, Spring Mountain and 1000ft below Howell Mountain AVA.
PROFILE: Old Toll Hillside Calistoga
A beautiful, elegant vintage, this big hillside cabernet sauvignon has deep inky black color, soft yet powerful tannins, with classic Old Toll characters of blackberries, mint, leather and wet stone. 89% cabernet sauvignon (3 clones) blended with 11% cabernet franc and petit verdot.
VINEYARD: Old Toll Hillside Calistoga
Old Toll Road is located on the northern most end of the Napa Valley. It is a great climate for growing premium
Cabernet Sauvignon. These grapes are not typically plump or beautiful; they are small and loose and their skin to pulp ratio is low, yielding a concentrated flavor. Old Toll has Cabernet Sauvignon, Petit Verdot, Merlot and Cabernet Franc. The majority of the grapes are planted to Cabernet Sauvignon with small amounts of Cabernet Franc and Petit Verdot. The vineyard site is a steep up and down site facing southwest. The vines are very closely planted and there is the ability for them to be watered in stressful times. The vines are around 15 years of age and show signs of mature development in the cellar.
VINIFICATION
The Old Toll Hillside Calistoga Cabernet was harvested October 2014. They were cold soaked for several days. Once ready, the juice is warmed, adjusted if needed, inoculated with yeast, nutrients, etc. and the fermentation process begins. When fermentation finishes, the wines are gassed and allowed to sit for an extended maceration.
We press the wine in a bladder press and all the wine goes immediately into barrels. At this time malolactic is induced. Once malolactic is complete the wines are racked, so2 is added and the real process begins. The wines will see 2 years of barrel aging. These wines are kept separate by variety and blocks until the final blend is put together a few months before bottling.
Wine Specifications
Calistoga AVA
Napa Valley
Old Toll Vineyard
Cabernet Sauvignon (89%) + Cabernet Franc + Petit Verdot
80% New French Oak
Alcohol: 14.9%
RARECAT Cab is only available by joining the Audrey Club or the Old Toll Allocation.