Gift Card: 1 Year Membership to the Audrey Club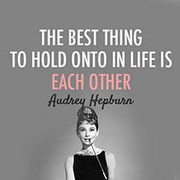 Audrey Club is inspired by one of the great rare cats, Audrey Hepburn. Her grace, elegrance, generousity and charm made her a rare beauty and inspires us to make life more beautiful for our clients. To qualify for the Audrey Club, you need to buy 6 bottle or more of RARECAT Cabernet. The club is extremely limited.
1. You receive 6 bottles of RARECAT Cabernet Sauvignon (fall) and 6 bottles of RARECAT Chardonnay (spring)
2. Club members pay $.01 shipping on all RARECAT Wine orders.
3. Free RARECAT tasting for 2.
4. Invitation to RARECAT's Signature Parties: The Tunnel of Love Party, Breakfast at Tiffany's Party, What is Beauty? and Holiday Portrait Party.
5. Ability to host a corporate retreat for up to 12 guests at RARECAT's Grey Barn in the heart of St Helena.
6. 20% off of a week stay at Chateau des Amis in St Emilion, France, (www.winevillas.com).
7. We believe in supporting charities important to our Audrey members. We will prioritize our charitable giving for those events our Audrey Members are chairing or serving on the board of. (We are especially interested in causes that improve the lives of women and children).